About
"It has everything! People! Drama! Romance! Precious stones! Speculation! Excitement! What more could you want?" was the response Harry Winston gave when he was asked by The New Yorker what he liked about the jewelry business in 1954. We share the sentiments of the late great King of Diamonds exactly. Our editorial dives into the many areas that make it such a thrill.
We cover breaking Jewelry News as it happens. Legendary and emerging designers are interviewed in our Profiles. Icons and Essentials traces the origin story of some of the most well-known designs of all time and new must-have creations. Gems are covered in the Rocks My World section. The stories in the Boutique and Studio Tours have slide shows revealing how designers convey their aesthetics with unique interiors. The Bridal category covers celebrity engagement rings and the latest engagement ring styles and wedding jewelry looks. We also step back and take a look at jewelry in a larger context. The Culture section includes books, celebrities, jewelry history and Elizabeth Taylor who is Queen of the Adventurine. The Adventurine is home of the original jewelry movie review because we know that if you follow the jewelry in a film you can often solve the crime or establish a romance before all is revealed in the plot.
Founder and Editorial Director
Marion Fasel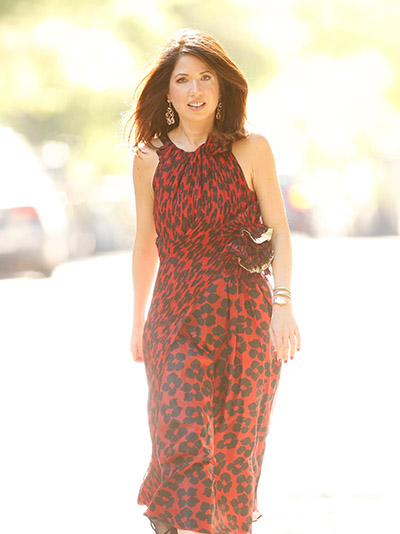 conceived The Adventurine as a dynamic destination for beautifully produced thoughtful stories on jewelry. The content and range of categories are a unique reflection of her work over the last 25-years. 
A leading editor, author and expert, Marion was responsible for InStyle's award winning jewelry and watch coverage for almost two decades. In addition to her stories on trends and interviews with jewelry-loving celebrities for the magazine, Marion has written eight books including the Bulgari Collection trilogy Serpenti, Monete and Bulgari-Bulgari published by Assouline as well as Bejeweled: Great Designers, Celebrity Style, With This Ring: The Ultimate Guide to Wedding Jewelry and Hollywood Jewels: Movies, Jewelry, Stars. 
She has acted as a consultant, curated and contributed to numerous exhibitions including Cartier & Aldo Cipullo: New York City in the 70s staged at the French jeweler's landmark Fifth Avenue Mansion in New York City and A Quest for Beauty: The Art of Van Cleef & Arpels that took place at the Bowers Museum in Santa Ana, California and Hollywood Jewels staged at the Academy of Motion Picture Arts & Sciences in Los Angeles.
In 2018, Marion received the the GEM Award for Media Excellence and the "Jewelry Champion"  T & C Award from Town & Country magazine.
Contributors
Sally Davies is a multi-talented artist and photographer. Her pop art style paintings are in the collections of Sarah Jessica Parker, Michael Patrick King and the Harvard Business School. More recent notable work, her gritty photographs of New York streets, can be found at the Bernarducci Meisel Gallery, NYC. Davies secret obsession (until now) is photographing jewelry.
New York Times bestseller, M.J. Rose grew up in New York City reading her mother's favorite books before she was allowed to, dressing up with pieces from her mother's jewelry box which she was allowed to do, and spending an inordinate amount of time in labyrinthine galleries of the Metropolitan Museum, especially in the Egyptian Wing. Her passion for jewelry is evident in her work. Several of Rose's recent historical novels focus on a jewel or jewelry including—The Secret Language of Stones, Tiffany Blues, Cartier's Hope, and The Last Tiara. She's contributed articles about jewelry to Sotheby's magazine and 1stdibs.com. Since 2005 M.J. has run the first marketing company for authors, Authorbuzz.com. She is also the co-founder of 1001DarkNights.com and BlueBoxPress.com. The television series PAST LIFE, was based on Rose's novels in the Reincarnationist series.
Kareem Rashed is a freelance editor, writer, and stylist based in New York City. He has worked for publications including Vogue, Elle, and Departures, where he served as the Fashion Editor. His expertise includes women's and men's fashion and accessories, jewelry, and watches.
Levi Higgs is an Archivist and Social Media Manager at David Webb in New York City, as well as a freelance writer and jewelry historian. He has a Master's Degree in the History of Decorative Arts and Design from Parsons the New School taught in conjunction with the Cooper Hewitt Smithsonian Design Museum, as well as an undergraduate degree in Art History from the University of Washington in Seattle. He lectures on jewelry history, social media, and material culture, he writes a decorative arts and jewelry column for the Daily Beast, and his glittering day-to-day is chronicled on Instagram at @Levi_Higgs. 
Smitha Sadanandan is an accomplished journalist with an international reputation for successfully tracking trends in the jewelry industry. She recently relocated from London to Chicago and is eager to explore the cultural landmarks in the Windy City and throughout America. Smitha writes on travel, lifestyle, design, jewelry and watches for several publications including  Adorn, Azyaamode, Luxe-BusinessLine, Solitaire, Solitaire International.
Art Director
Technology
Site development by Gedney Studio
Contact
For press submissions or inquires about branded content packages or advertising please email: hello@theadventurine.com